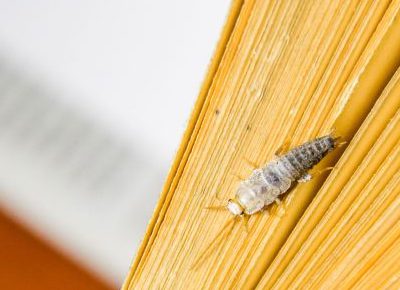 Pest Control
Silverfish
Silverfish are small and nocturnal insects. They get their name from their color and their fish-like movement. They move rapidly, so can regularly out-run predators , and like to tunnel in dark spots. Silverfish is harmless to humans but can certainly destroy paper, books, wallpapers, clothes and carpets with their droppings.
Silverfish get their name from the insect's silvery, metallic appearance and fish-like shape and movements. Silverfish are also known as "bristletails" because of their three long, bristle-like or tail-like appendages on the rear end of their body. Silverfish are found throughout the U.S. and are typically seen in moist, humid areas in the home, such as bathrooms, basements and attics. They tend to hide their presence from humans, which means any damage they have caused could go unnoticed as well. Read on to find out more about silverfish control and how to get rid of silverfish.
Silverfish have no wings, but are able to run very fast. Adult silverfish have a body length of about ½-3/4" (12-19 mm) not including the tail. They have a flattened body and their shape is often compared to a teardrop, carrot or fish, tapering from head to rear and generally covered with scales. Silverfish are named after their silvery, metallic appearance as well as their fish-like shape and movements. They also have threadlike antennas and small compound eyes that are widely separated. Immature silverfish look similar to adults, except for size and their scales appear with the third or fourth molt.
Keep an eye out for feeding marks, although they may be irregular whether they are holes, notches along an edge, or surface etchings. Yellow stains, scales and/or feces (tiny black pepper-like pellets) may also be seen on infested materials. These pests can typically be found in humid, moist areas of the home including basements, attics and bathrooms. People have noticed silverfish when they come down on ceiling soffits and/or drop from skylights and canister light fixtures in the ceiling, likely entering through shake roofs.
Identify & Control Common Pests
Identify & Control Common Pests
Green Pest Management is offering effecive pest extermination services in both residential and commercial sectors. We are providing safe, quick and effective wasp removal services to protect your family
from pests and associated risks.